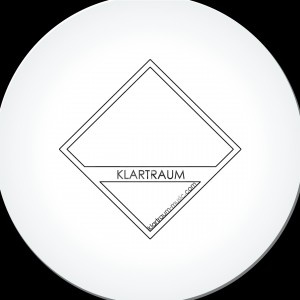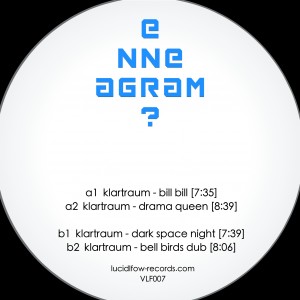 meanwhile you can enjoy our special 'Enneagram' Live Performance recorded live in Cologne

E The 'E' stands for Enneagram, which is a way to classify which personality type you belong to. In other words, it describes which 'lens you see your reality' and in which stage of your personal development you made this decision.
Now the collection has converged into a whole album as promised, the cover art segments merged into one full colourful Enneagram designed by Aaron Bolte. Enclosed a shiny Lucidflow vinyl with four excellent Klartraum dreams:
Bill Bill ramps up the tension, using the dub theme but increasing the tempo. Hidden deep in the mix is a low constant held string, the very antithesis of the classic disco string.
Drama Queen, it swings and wiggles before developing with a 70's detective mystery edge.
This then leaves Dark Space Night, abandoning the sleazy speakeasy mood for breathless dub techno momentum. This is the bread and butter of Klartraum, merging light and dark simultaneously in one continuous movement.
Bell Birds Dub sets the tone by exquisitely moving through deep dub darkness with only the briefest sun shafts shining through.
support by :
Slam, Evil Eddie Richards, Nadja Lind, Thomas Schumacher, Pig & Dan, Josh Wink, Estroe, Sasha, Danny Tenaglia, Jonny Cruz, Alex Dolby / Affekt, Robert Owens, Calos Sanchez, DJ Franksen, Peter Kruder, Buda / Lulu Rouge …
—-
A1 – Bill Bill
A2 – Drama Queen
B1 – Dark Space Night
B2 – Bell Birds Dub