No. 3 on Beatport 'chill out' best sellers!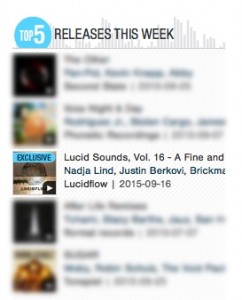 RELEASE DATE 2015-09-16
LABELS Lucidflow
CATALOG # DCD046
Paul Brtschitsch Rootknoxthis is something different, more than just a tool state of the art electronic music production. interesting to analyze those sounds in their clearness based on floating arrangementsflashback for me into a time where i asked myself what will i become once? outstanding release!Slam Soma Recordsvery cool tunes cool labelNadja Lind Lucidflow, Soma, Darkroom Dubsfull support. in love with prelude and something together and the rest :DAudiofly ( Get Physical )sick ep. will definitely find some music here for my setsThe Advent Tresornice groovy jams .. like a few thanks..Danny Tenaglia Twisted America RecordsSupport!!!!Florian MeindlWhat Will We Become & Dusk And Beyond are coolThomas Schumacher Electric BallrommNoirPetsSomething Together for me. Niceness.Axel Bartsch (Sportclub Music)awesomeness!!!Pig & Dan (Cocoon)really love the prelude thanxsToni Rios Cocoon Recordingswhat will we become sounds good. will try it.Luciano Esse Safari Electronique, Out-Er, Leftroom, Material SeriesCan't stop listening to the last 3 minutes of PRELUDE I love it!!Maetrik Maceo Plex (Mothership, Dumb Unit, Crosstown Rebels, Treibstoff)downloaded for maceo plex, thanks for the music!Alex Tolstey Triangle EyesBoshke Beats RecordsKILLER, Justin Berkovi never gets its wrong even when its mellow it still kicks ass! thanxGel Abril Be As Onequality ep from Justin will test all tnx!Laurent N. Atavisme, House Nation RadioI love this Ep with a TOP stuff by Justin Berkovi. All tracks are great for me. Will play & ALL MY SUPPORT !!!Anton Banks The Vault Radio ShowJustin's music never ceases to impress me. It never goes the way I think it will- often for the better. I like Prelude best but will try the rest as well.Steve Ward Kiss FMAMAZING RELEASE by Justin! Big fan of his work. Support on my chameleon radio show and in ze clubzJustin Berkovi TraumTrapezI'm very happy that Lucidflow saw something in my music for their label!