beatport feature (genre techno)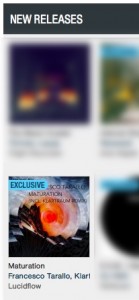 Lucidflow welcomes a new talent from Berlin on their roster: Francesco Tarallo with provides some SERIOUS dub goodies.
Francesco Tarallo is a German DJ and producer who has been around for over 15 years. Some of the world's most influential DJs, such as Richie Hawtin have played Tarallo's work and he has received great approval for his work throughout the industry including a spot in James Holden Top 10 Charts in the Groove Magazine.
From a very early age on he has been drawn to the sounds of electronic music. Firstly discovering beats through old school hip hop, gradually as his own music developed, he continued to draw influences from a wide range of artist from many different genres including jazz, funk, experimental, and classical music.
In 2004 he was scouted by one of Germany's most influential techno record labels Trapez where he had several vinyl releases including "Sogno EP" on Trapez Ltd., Vertrieb Kompakt, and Rifare on Trapez "Selection 3" Mix Compilation.
– mastered by Agile-Mastering –